Support DCCT! Handmade SWAG
Handmade washcloths by Pat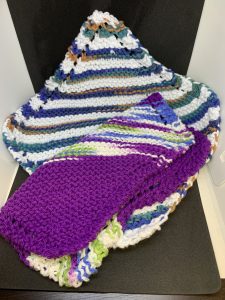 Suggested donation:
1/$4.00 or 3/$10.00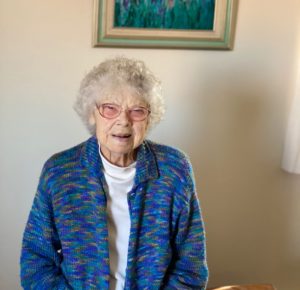 Patricia D. Price – Pat has been living with type 1 diabetes since 1946.  She was diagnosed at age 13 and has seen many changes in diabetes care.  Pat recently started on an OmniPod insulin pump with help from the educators at the Diabetes Community Care Team.  Pat is living a long and healthy life while managing her diabetes.
Pat is an avid knitter and has donated some of her wash cloths for fundraising for the Diabetes Community Care Team.

Crochet Creations by Tian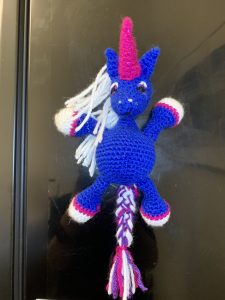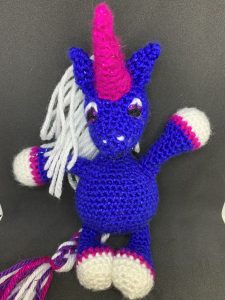 In the type 1 diabetes community, "catching a unicorn" refers to the "magical" moment when you get a blood sugar reading of exactly 100 on your meter and/or CGM (continuous glucose monitor). These unicorns are much easier to catch! Handmade by Tian Walker, these cute stuffed unicorns are available with and without magnets in their hooves so you can always have a unicorn hanging around. Donation proceeds to support DCCT!
Tian also has other critters and even jewelry available: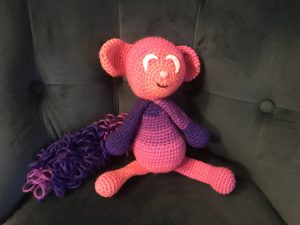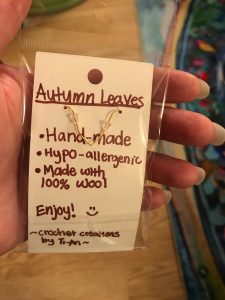 Donation pricing based on a sliding scale
Crochet Critters (without magnets): $10 - $30
Crochet Critters (with magnets): $15 - $35
Earrings: $8 - $24
Tian Walker moved to Eugene Oregon to pursue a PhD in biological anthropology while being  a part of a ground-breaking new non-profit called Diabetes Community Care Team (DCCT). Her research interests are chronic health conditions, type 1 diabetes, transgender health, and global health. She is passionate about the power of community in building resilience among type 1s. Having spent the first 11 years as a type 1 with very little contact with other people living with the condition, the community she has found at Diabetes Community Care Team has been life-changing. During the Covid pandemic she has re-discovered her love of crochet and finds joy in crocheting toys that might bring a smile to people whose lives are touched by diabetes. She has recently branched out into earrings as well, and is a long-time fan of crocheting scarves and purses. If there is a crochet item you desire, she will make it for you. She appreciates any donations you can make to DCCT on behalf of the items she has made. However, her intention is to make them accessible to everyone and thus she has created a sliding scale. She would love to hear from you and know more about your diabetes story. She is happy to take requests for handmade items. You can reach her at tian@dcct.life.
---
Handmade Cloth Face Masks
These masks are double-layer pleated high thread count cotton. All masks are one size measuring 3.75" x 7.25" finished. Due to limited fabric availability, specific pattern requests are not possible, although every attempt will be made to fulfill color requests.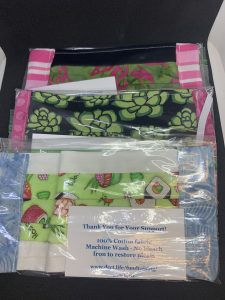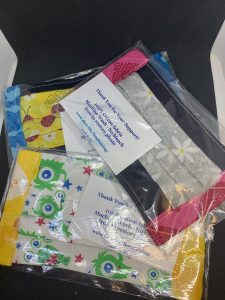 Suggested minimum donation: $5.00 USD/mask
---